Lean 5s – The First Step To Improving Productivity
A plastic injection molding company practising the lean 5s method will benefit by having faster set up times, reduced operating costs, a visually attractive workspace and higher employee morale.
What Is Lean 5s About?
---
It is about people organising their workspace into a safe and structured layout so that tools such as allen keys and eye bolts are easy to find and use.
Broken or lost tools are replaced or fixed so that tasks are completed quickly. 5s eliminates time wasting because tools are easy to locate and are in good working order.
Steps In 5s Lean 
---
There are 5 steps:
1.Sorting
Sorting involves collecting the tools you need and discarding the tools you don't need.
The tools needed should be sorted into 3 categories. The first are the tools that are used daily, the second are the tools that are used only occasionally and the third are the tools that are used once or twice a year.
In injection molding some of the tools a die setter needs daily are allen keys, a torque wrench and eyebolts.
Tools required occasionally are used for machine maintenance such as tapping a hole in a platen and tools required once or twice a year are for machine servicing or repair.
2.Straightening out or simplifying
This means organizing the workspace so that all tools belong to a dedicated trolley, board or cabinet so that they are easy to find, use and return.
For tools used on a daily basis, shadow boards are common (right). They are usually secured to a wall which is easy to see from a distance and are located in a convenient position such as next to a molding machine.
3.Shining or Sweeping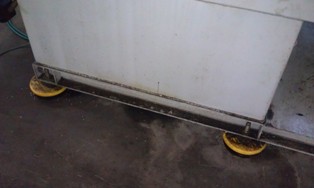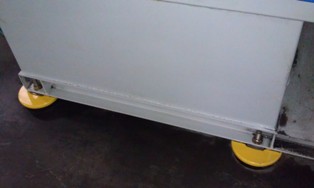 This means cleaning everything in the workspace so that it is free of residual oil, dirt , dust or anything else that is not supposed to be present(right).
This helps to promote a safer and more enjoyable work environment.
4.Standardizing
Standardizing is about implementing practices that are consistent throughout the work place. All workspaces must have common rules that are easy to use so that everything is kept well organized.
For example, at the end of shift all shadow boards should be checked and any missing tools found so that the next shift doesn't have to waste time searching.
5.Sustaining
This is about doing the previous 4 steps in the long term.
5s will only work if management are committed to it.
One way of doing this is for one manager to manage by walking around and report on the tasks that have not been done and holding people responsible.
Additional Comments
---
The biggest benefit of implementing a 5s program is that the results can be seen immediately.
Having a workplace that is clean, safe, neat and tidy makes everyone feel better and what is even better is that this can be used as a motivational tool for the company to implement the next lean manufacturing method.
Return from Lean 5s to Lean Principles
Return from Lean 5s to Home Page